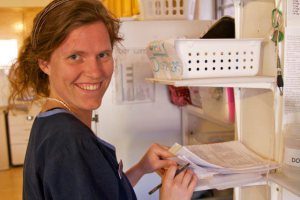 My name is Tara Daystar and I am a Certified Professional Midwife, Mother and Experienced Doula.   Following my passion to improve birth outcomes and experiences, I am currently focusing my practice on serving women and their families as a Doula only.
Although in the Doula role I do not give medical care (I leave that to your doctor or midwife), my midwifery skills and understanding of labor and birth can greatly facilitate the birthing experience.
Training and Experience
I was trained at the MEAC accredited (Midwifery Education Accreditation Counsel) midwifery training school and birth clinic, Maternidad La Luz, in El Paso, Texas. In our busy clinic we provided bilingual prenatal, intrapartum and postpartum care including pap exams, counseling and birth preparation classes. My education included 2,400 direct clinical hours, over 700 academic hours, over 100 labors and 68 births in which I was an active participant-including 25 in which I acted as the primary midwife under supervision.
To view a trailer for a documentary on Maternidad La Luz, see the link below!
https://www.youtube.com/watch?v=mEnERXDLD1c
In addition to attending a pregnancy massage workshop at the Midwifery Today conference in 2012, I completed a 12 hour continuing education course for Prenatal Massage in 2010.  I am NOT a massage therapist, although I do offer relaxation touch focused on safe areas of the body, education about tension release body movements, massage and acupressure for pain relief during labor, as well as some postpartum body healing techniques.  My physical care is informed by my midwifery studies as well as personal research, intuition and learning.
In 2016 I completed certification for Hypnobirthing with the Leclaire Method and will be offering private and public partial and one-day classes
In addition to my formal training, I have attended additional births over the last 6 years as both a hospital doula and a home-birth midwife's' assistant.  I am currently certified in Adult and Infant CPR  and am a certified neonatal resuscitator.  I was certified by the North American Registry of Midwives in 2011.  I also hold a Bachelors of Arts from Lewis & Clark College in Portland, Oregon. I am able to provide care in the Spanish as well as the German language.
To learn more about my experiences at the birth clinic, please see my publication in the book Floyd Folks: Collective Wisdom from a One Stoplight Town by Tommy Bailey
As a doula, my experiences include:
Delayed cord clamping
Father catches
Sibling involvement
Skin to skin and Kangaroo care
Spinning babies positioning techniques
Natural pain relief
Hypnobirthing
Massage in labor
Rebozo
Aromatherapy
Upright birth
Laboring in water and waterbirth
Vaginal birth with epidural
Labor induction
Cesarean birth
Placenta encapsulation
Gestational Diabetes
Posterior labor, back labor and malpresentation
Vacum extraction
Prodromal labor
Preterm labor
Teen pregnancy
Unexpected outcomes
Rebozo
Accupressure for labor
TOLAC, VBAC and HBVAC
Breast crawl and the golden hour
Breastfeeding challenges
Postpartum healing
Belly binding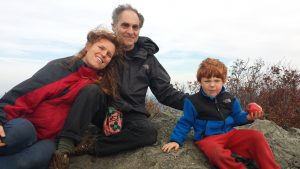 Tara Daystar lives with her sweet family in Floyd, VA on a little homestead with 2 dogs, one cat and some chickens.  Rowan wants to grow up to help babies get born someday because they are 'so cute'!  Mom and Dad approve.  In addition to her birth work, Tara loves learning about organic gardening, hiking, backpacking around the world, natural health, music and languages and Jungian psychology.  Since finally surrendering to sleep (Rowan was not a sleeper!), she has come to love it.  When she is not rockin a birth in the wee hours, one of her favorite things is to snuggle down with a good book and go to sleep.  That is how you wait for a baby!